The Ford Bronco comes with a lot of history. Back in the 1960s, it was one of America's favorite vehicles. The nickname GOAT (Greatest Of All Time) typically is associated with sports athletes but thanks to the Ford Bronco's popularity and ruggedness it seemed fitting that it would align.
GOAT for the Bronco has an entirely different meaning, read on to learn more about it.
With some updates for modern times, such as a better engine, new suspension system, and more luxurious features like leather seating surfaces – not to mention that classic look – the Ford Bronco has come back to once again become an iconic vehicle for those who love both off-road adventures and luxury car perks!
Ford has announced that the Bronco will come equipped with GOAT mode. This is a first for any vehicle on the market and it's one of many features that make this SUV stand out and something we're excited to be seen on our lot at Windsor Ford!
What is GOAT Mode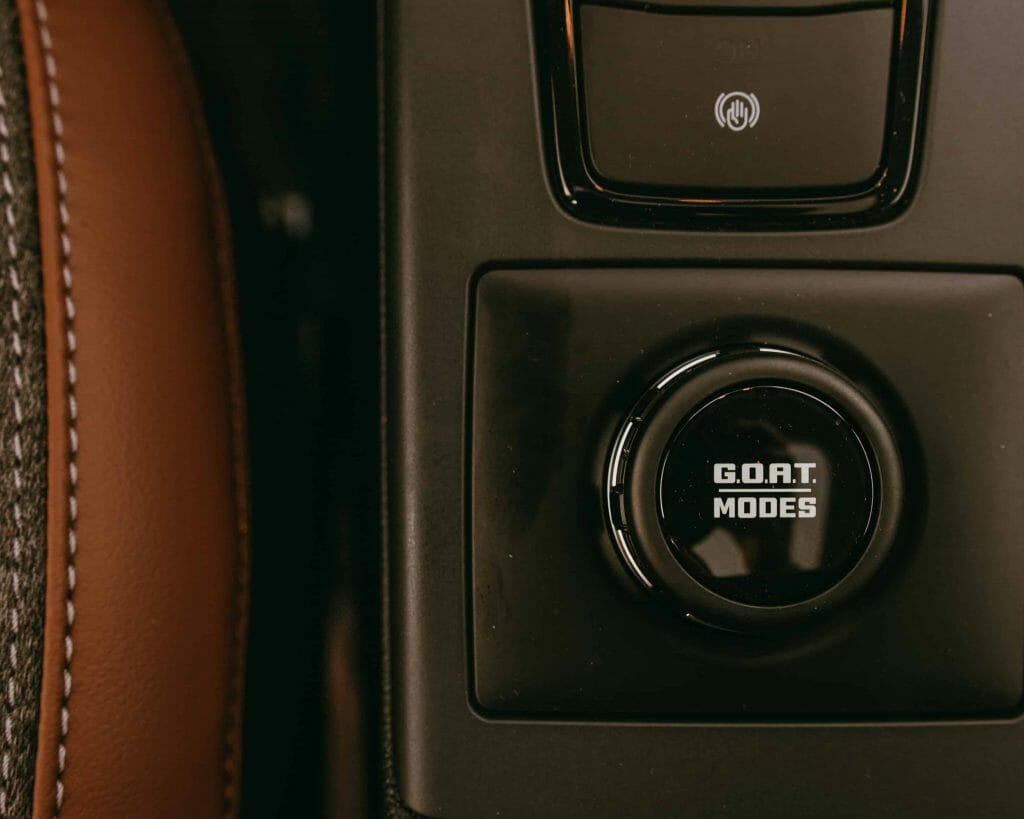 Ford's GOAT Mode Ford was introduced as a new feature for the all-new Ford Bronco that started to arrive in 2021. The term stands for "Goes Over Any type of Terrain," which explains the Ford Bronco model's market, it's capabilities and of course what to expect should you eventually find yourself driving one.
Ford is no stranger to off-road vehicles, having made one of the first four-wheel-drive cars back in 1909 with their Model T. Ford was also an innovator when it came to terrain modes, as they were among the first companies to offer a 4×4 mode on their Explorer SUV models starting in 1994.
Ford's F-150 truck offers five different terrain modes: Normal, Eco, Tow/Haul, Sport and Snow/Mud while both its Expedition and Navigator SUVs offer Normal, Eco, Tow/Haul and Sport.
Ford reintroduced their Ford Bronco to the world in 2004 As Ford's GOAT Mode Ford is no stranger to off-road vehicles, having made one of the first four-wheel-drive cars back in 1909 with their Model T. Ford was also an innovator when it came to terrain modes, as they were among the first companies to offer a 4×4 mode on their Explorer SUV models starting in 1994. Ford's 2020 Ford Expedition Ford's GOAT Mode Ford Bronco Ford will also be offering a GOAT mode on its Ford Bronco coming in 2021. The Ford Bronco was first released back in 1966 as an all-purpose vehicle meant for adventurers looking to head out into the great outdoors. Ford reintroduced their Ford Bronco to the world at the 2004 North American Auto Show, saying that Ford was going to focus on
What are the standard GOAT Modes on the Ford Bronco
The Ford Bronco is made with five drive modes that are meant to help the driver have a good time. They include Eco, Normal, Sport, Slippery, and Sand for both on-road use (Eco etc.) as well as off-road (Sand).
Normal Mode
Everyday driving is a balance of excitement, comfort, and convenience. This is what your car will do when you start it up each time. Normal is intended for, normal driving conditions and everyday driving. The default mode will be perfect for highway speeds and will separate itself from other modes. Maintaining a competitive fuel economy is only second to the next on our list.
Eco Mode
When you are driving, this feature helps you drive with maximum fuel efficiency and provides a competitive fuel economy. Eco is intended to provide maximum fuel-efficient driving and increased range.
Sport Mode
For a more sporty driving experience. This will make it easier to accelerate and steer. The power train system will hold on to lower gears for longer, providing you with faster acceleration. Intended for more aggressive sporty driving, presumably on the pavement.
Slippery
Some roads can have snow or ice on them making traction control important. You can use your car's slippery mode if you are driving on a road like this. Slippery mode will make the car go slower and change the gear shifting to work better for when there is snow or ice on the ground.
Sand/Snow
When you are driving in loose sand or snow, use Sand mode. This is typically used for off-road driving on soft, dry sand or deep snow.
What Are The Additional And Advanced G.O.A.T Modes For the Ford Bronco?
The five standard G.O.A.T Modes™ are not the only ones that you can use for driving on rough roads. On such higher trim models there are three more modes that make your driving experience even more exciting and challenging:
Mud/Ruts
When you want to go through thick muds, ruts or uneven ground, this mud mode will provide the right engine power to help with losing traction through the four-wheel-drive lock. This mode makes your vehicle work better on these terrains and enhances vehicle performance to traverse muddy, rutted, or uneven terrains.
Rock Crawl
For the best rock climbing ability choose Rock Crawl mode. Rock Crawl was one of the funner ford model's mode created and helps engage four-wheel drive and rear differential lock. It also activates the front trail camera at slow speeds.
A slower wheel turn with rockier off-road drives will help you climb even the most unexpected obstacles. As it optimizes shifting in rock crawl mode it will provide you the optimum rock-climbing ability.
Baja
On Bronco Badlands, Wildtrak, and First Edition models, the Baja drive mode provides a suspension that is better for loose terrain or sand. The suspension is not the same on Bronco Sport and is designed for high-speed off-road driving.
What GOAT Modes Comes with The Bronco Sport?
Not many changes with the Bronco Sport base model modes. You can adjust your Sport for more rapid driving in many of the similar ways of the Big Bronco.
Every trim level comes equipped with 5 modes: Sand, Slippery, Sport, Eco, and Normal.
The incredible Badlands edition comes equipped with two additional modes: Rock Crawl and Mud/Ruts.
Unfortunately, Baja mode is not a part of the Bronco Sport at this time but may be included in future trim levels.
How to enter GOAT Mode
Entering a specific GOAT mode is incredibly simple. The driving modes are easy to switch and useful for driving in selection conditions.
The mode is selected using the controller. You can see what modes are available by looking at the panel on your dash. The buttons in the center of your controller will let you pick 2H, 4H, 4L, or 4A (auto). Some vehicles may only have certain options because of their equipment or what GOAT mode is currently set to.
You can switch between modes while driving while others may require you to come to a complete stop.
The Benefits of GOAT Mode
GOAT modes are good for driving. Your experience and ability will make the mode more useful. It is best to use it for different purposes depending on how you want to drive.
When Ford Motor Company started building the additional modes, some of the most experienced drivers helped develop and test Bronco and GOAT modes. They have said that the features are useful. The summary recommendation is to use them.
In a lot of situations, the modes make it easier to make adjustments. The buttons on the car are a shortcut for making these changes.
There are some things that drivers can do that they cannot do without GOAT modes. This includes adjusting the shift points to increase fuel efficiency. Drivers cannot change these things without using GOAT modes or other modifications.
Want To Test The GOAT Modes For Yourself?
The Ford Bronco is a vehicle that can take you wherever you need to go. It's the perfect car for anyone who wants to explore the great outdoors and get away from it all. With removable doors, variable adjusts, power output, transmission controls, and much more you'll never regret being a Bronco owner.
You don't have to be an expert off-road driver (just a responsible driver) in order to enjoy your time with this amazing vehicle. With just one hand, you can easily switch between GOAT modes without adjusting your grip or taking a hand off the steering wheel. You won't find another vehicle like it on the market today. Needless to we agree that it's an amazing vehicle but also provides an incredible driving experience no matter what your style is.
Looking for more information on the 2021 Ford Bronco? Learn more or contact us today to get into a brand new Ford Bronco at Windsor Ford.