The very first all-electric crossover vehicle from Ford was introduced and designed (and named) after the company's iconic Mustang pony car. The Mustang Mach-E is a battery electric vehicle and can be charged at any standard, 240 volts, AC wall outlet. Depending on where your charge it, it can take anywhere 1-48 hours!
This article will introduce you to what the Mustang Mach-E is and how to charge the EV.
Charging Your Mach-E At A Fast Charge Station
With an ever-growing DC fast-charging network, the 2021 Ford Mustang Mach-E is becoming an easy option for people considering an all-electric vehicle. The initial negative feedback from purchasing the Ford Mustang Mach E in Alberta relied solely on the car's ability to hold up in winter conditions or ultimately how far you could get on a full charge. Now, we have those answers.
Initial reports suggested a 10 minute stop on a DC fast-charger would provide an additional 70-75 km of distance but we know now with physical testing that it's likely to be more. In fact, if you're needing to stop for a quick bathroom break or perhaps just want to grab a snack it's likely you may see an additional 90-100 km range added in just 10 minutes. Giddyup! This is a nice number for anyone on the fence about purchasing an EV like the Ford Mustang Mach E as a charging station seems to be more available as the months go by.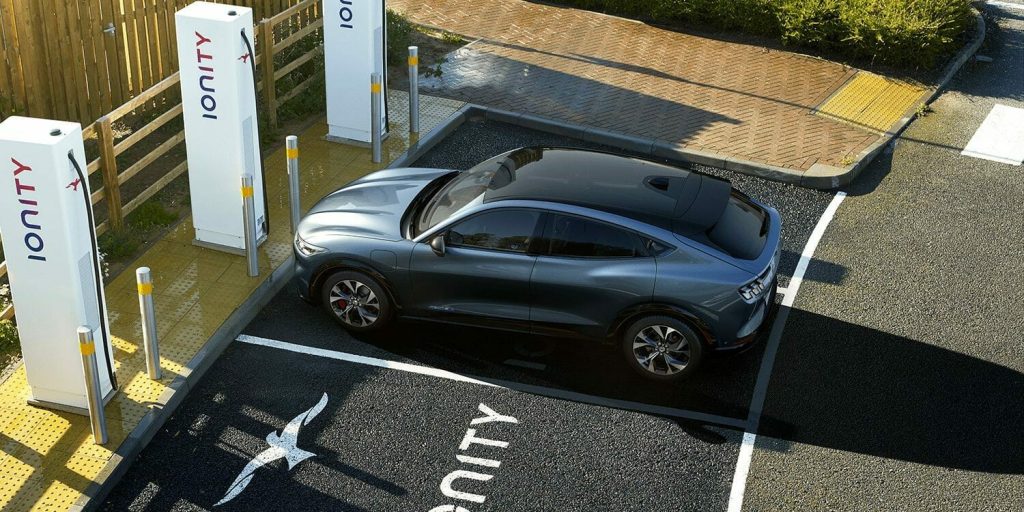 Keep in mind, this is the result for the top-of-the-line Mustang Mach-E (rear-drive model) and they do fluctuate quite a bit based on which model you choose. For example, the all-wheel-drive variant can likely only get up to 75-85 km in 10 minutes (still not too bad).
The approximate time to fast-charge a Mach-E from 10 percent to 80 percent is 45 minutes for the extended-range battery and about 35-40 minutes for the standard range. If you're planning on driving your vehicle throughout Alberta we suggest choosing the extended-range option.
Again, these numbers are typically in a controlled environment, factors like the temperature, driving style, and overall battery state of health can cause these numbers to change.
Charging Your Mach-E At Home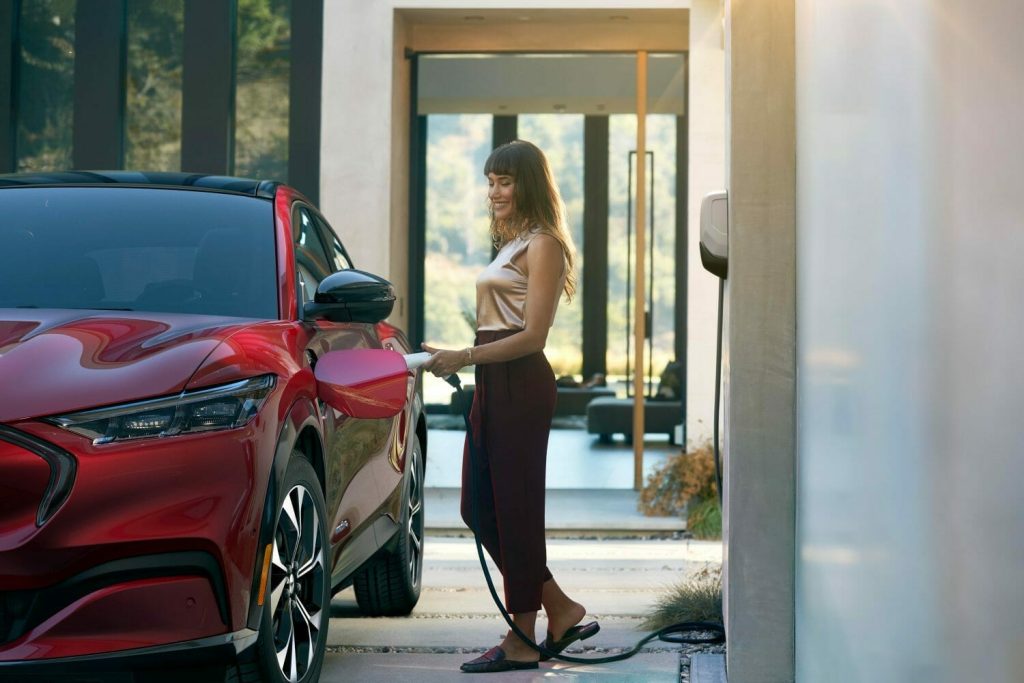 If you're at home and want a home charger for your car, you might have to wait 10 hours. The Ford-connected home charging station needs 10.1 hours to fully charge a 300-mile extended-range Mach-e battery. You can use the ford mobile charger that comes standard with the vehicle and plugs it into a 240-volt outlet. With this charger, achieving a full 0-100-percent charge on a big battery takes 14.1 hours; it comes with a 20-foot cord with a nema1450 plug that fits an electric oven/range electrical outlet and can draw 32 amps from a 40-amp breaker circuit. You probably don't have time to top up with a typical household 120-volt plug—that takes 100 hours.
Ford has said that the charger will be quicker and easier to find in the FordPass Charging Network. This network is new and is growing fast which means there are more charging locations for you to use. Currently, Ford has a bigger EV network and continues installation on stations every day, more than other companies offering electric cars making it easier to purchase an electric vehicle if you've been questioning the time spent charging. With an interactive map continuing to grow in the Ford Pass app it will help you chart your trips and incorporate stops to charge your vehicle along the planned route.
How Much Does It Cost To Charge A Mustang Mach-E?
A great question and one that will vary depending on your location. Typically you can get a full charge anywhere from $0 to $40 dollars depending on rates. With an estimated 430km range that's still a significant discount but if you use public chargers you may end up paying more than you would if at home. If you have solar panels and don't include the initial investment or installation costs it may be nothing at all…so needless to say a lot will depend on your location!
Does The Mach-E Come With A Charger?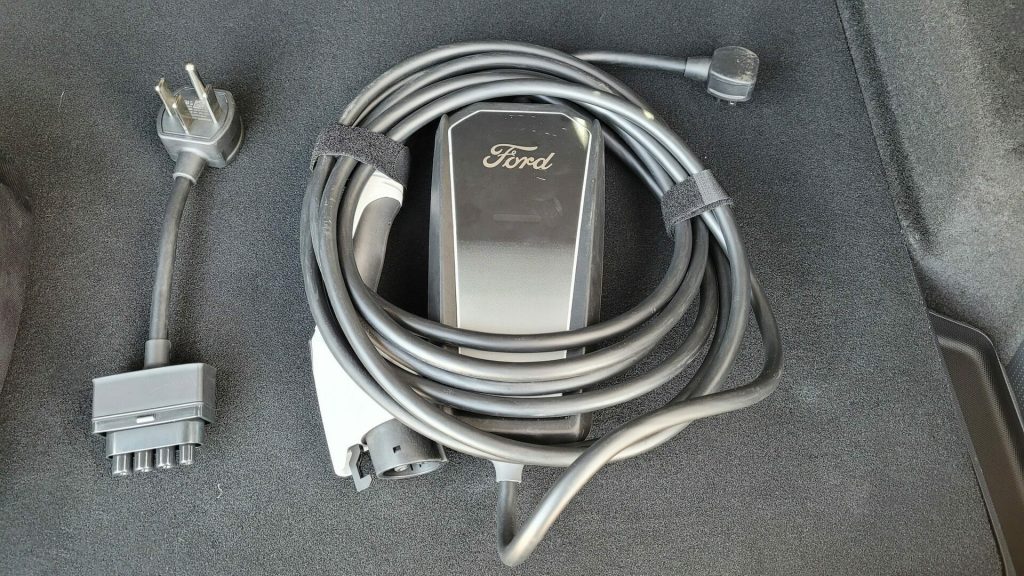 So, does the Mustang Mach-E come with a connector or charge? For owners simply put…yes but it's not the most ideal charger for the car. Called the Ford Mobile Charge, it comes equipped with two attachments designed to charge either in a 120V outlet or a 240 NEMA outlet. Great in theory, not the most efficient for time. With the 120-volt outlet a full charge from 0-100% may take up to 4 days and while the 240V (if you have one accessible) is faster it still is well below the Mach-E's charging acceptance rate.
You have a few options when it comes to your charging cables. Choose the one designed specifically from Ford or look into after-market charging stations and cables where installation may be in your hands.
Direct from Ford, the Ford Connected Charge Station provides the high-power charging your Mach-E's acceptance rate demands.
In conclusion, when it comes to charging your Mustang Mach-E you have a handful of options available to you. Charge on the road or charge at home! The best bang for your buck will likely be an overnight charge in your garage once you've finished setting up your charge port but if you are planning on taking a new adventure in your Mach-E we suggest using the FordPass app to plot your course and stop in on the high powered DC charging stations! In under an hour you can likely have your brand new Mustang Mach-E charged to 80% (or more) and be back on the road in no time!
To learn more about Ford's newest all-electric crossover vehicle visit Windsor Ford today!