Introducing the all-new Ford Explorer Timberline. The newest trim from Ford is finally here at Windsor Ford, and it packs a punch becoming the most off-road capable vehicle with more ground clearance than any other Explorer before it; improved approach, steel skid plates, better departure angles, springs, stabilizer bars, and much more.
No matter what kind you are looking at – whether it's family fun or enjoying the outdoors- this vehicle has got your back.
The exterior styling gives this SUV an aggressive yet functional appearance perfect for exploring new terrain, commuting daily, or going out camping every weekend, and with three rows of seating everyone can enjoy themselves from backseat passengers to front row drivers.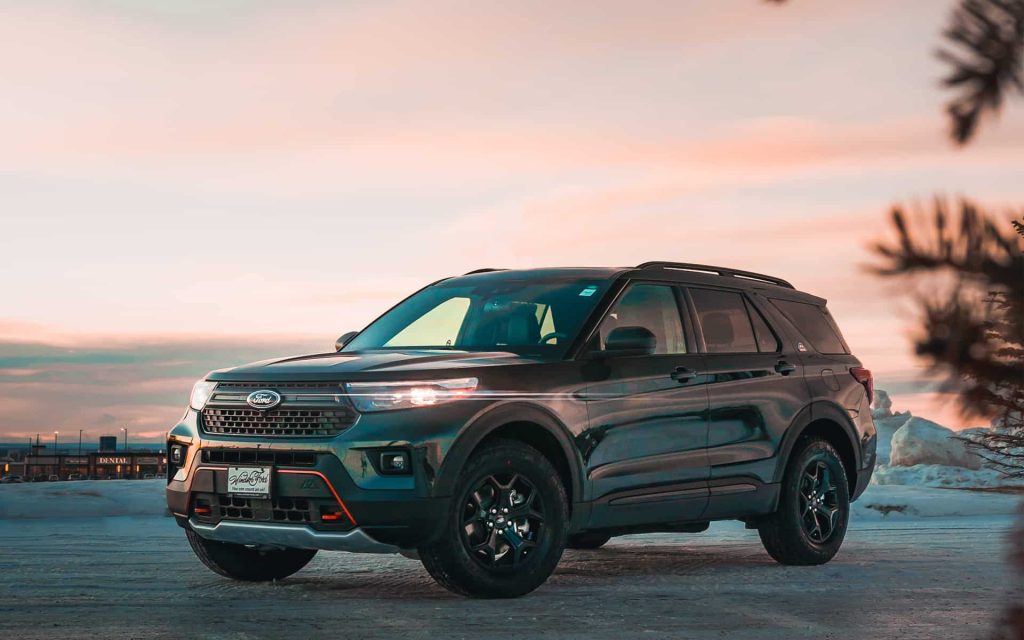 2022 Ford Explorer Timberline Specs
Ford has given the Explorer a total off-road readiness overhaul in creating its latest model, the Timberline. Starting from underneath and most obvious there are rugged 265/65R18 Bridgestone all-terrain tires with an aggressive yet allegedly quiet tread pattern that provides quarter-inch more ground clearance than before, plus mild suspension lift increasing it up to 0.8 inches!
But let's take a look in great detail at the Ford Explorer Timberline.
Timberline Horsepower
The new Explorer is powered by a 2.3-litre EcoBoost engine that produces 300 horsepower and 310 foot-pounds of torque like what you see in the all-new Bronco, paired with an automatic 10-speed transmission for ease of driving in any condition.
Timberline Ground Clearance
The new suspension, high-sidewall Bridgestone Dueler P265/65R-18 (31.6 inch) all-terrain tires, and updated front end design give the Explorer Timberline an approach angle of 23.5 degrees with a max departure angle of 23.7; plus the minimum ground clearance of 8.7 inches for navigating unpaved roads or uneven trails.
If that's not enough you can also take advantage of traction with a Torsion limited-slip rear differential that will help get your vehicle moving safely over any surface!
Timberline Towing Capacity
The Ford Explorer Timberline models are some of the most versatile, high-end SUVs on-road today. As mentioned, the new model with its 2.3L EcoBoost engine that produces 300 horsepower and 310 lb/ft torque will help the SUV get up those mountain passes or through rough terrains effortlessly with its Class III Trailer Tow Pack 5300-pound max capacity (when equipped properly)!
Timberline Mechanical Specs
2022 Ford Explorer Timberline Colours and Exterior
The Explorer Timberline is more than just an appearance package; it has been designed to handle almost everything you throw at it like a pro. Engineers at Ford have fitted the SUV with beefy shocks, springs, and anti-sway bars borrowed from police interceptors for increased ground clearance of 0.8″.
What are the colours of the Ford Explorer Timberline in 2022
As an off-road-oriented SUV designed specifically for those who wish to take their vehicles further than usual, Ford wanted to give it a rugged and outdoorsy look and provided that in it's promotions. The Forged Green shows prominent in almost all of the advertising and seems like it's the only available colour option in that trim line but other options include:
Agate Black
Iconic Silver
Star White
Forged Green
Carbonized Grey
What's Different About the Ford Explorer Timberline On The Outside
The most notable difference between the Timberline and other Explorers is that it has a Torsen Limited-slip Differential, which provides better handling on dirt or snow.
It also features 19 mm increased ground clearance; unique front and rear bumpers to increase approach and departure angles (which means they're more likely not to hit anything while driving off-road) along with steel skid plates for additional protection against impacts. If you've been struggling with the back and forth on whether or not you're ready for a new vehicle seeing how this Explorer handles the weather in Grande Prairie, AB may just be the difference.
2022 Ford Explorer Timberline Interior
A few things have changed on the interior of Explorer Timberline. The cabin of this car is designed to match the outdoorsy exterior and experience. Inside you'll find a deep cypress trim, some beautiful stitching, and stone mesh instrument panel, as well as heated seats for those cold mornings!
A faux leather material called Active X covers them with cloth inserts which make clean up easy (and stylish!). Standard equipment includes rubber liners over carpeted floors.
Timberline Cargo Space
Need to know how much is in the back of the Explorer Timberline?
The Explorer Timberline provides a whopping 18.2 cubic feet of space behind the third row, 47.9 cubic feet in the second row, and up to 87.8 total with the second-row seating folded down. Cargo space in the Timberline ends up being the same across all models of the Explorer lineup with a to 2132 L.
2022 Ford Explorer Timberline Price & Availability
The best news about this is the Ford Explorer Timberline is available now! We waited a while to see the new trim line land on our lot at Windsor Ford but we're excited to announce Timberline is available as of this writing.
The Timberline starts at $48,429 MSRP and may change based on availability, features, and of course, the latest Ford Factory rebates happening each month. If you are interested in learning more about the Ford Explorer Timberline or want to take it for a test drive call us, text us or come down and see us in Grande Prairie, AB.