We've all pictured it…top down, hair blowing in the wind and an open road where you've got your foot on the pedal on the long empty path ahead. We feel you'd be lying if you haven't pictured this in your mind at some point when driving your vehicle…especially more so if you've ever driven a Ford Mustang.
Today marks 55 years of Mustang! From a classic to modern mobile the Ford Mustang is truly one of North America's national treasures. In honour of this special day we've compiled some quirky facts.
When Was The First Ford Mustang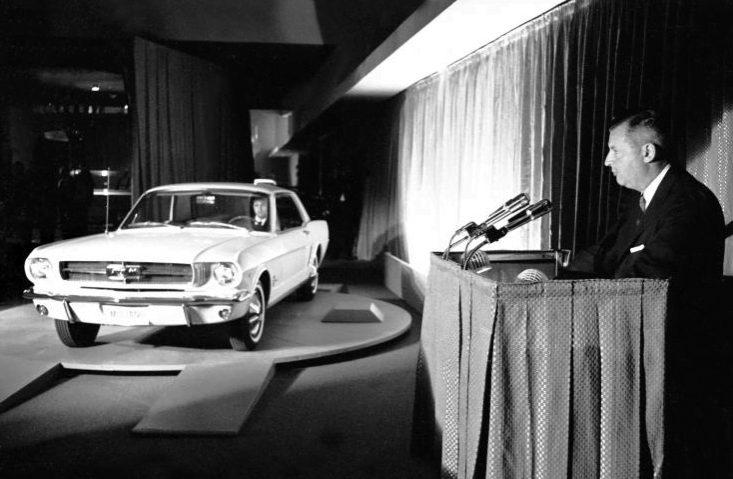 On this very day back in 1964, Henry Ford II provided the very first look on an all new Mustang at the New York Auto Show. For any history buffs, the first Mustang was known under a special codename "Special Falcon" which also was led by legendary Lee Iacocca.
After it was revealed there were approximately 22,000 Mustang orders on the very first day with 419,000 sold within the first year.
The rest as you might say is history…
How The Mustang Was Named
It's no secret that Ford had multiple names chosen. Cougar, Stiletto, and Allegro were all options but the company eventually settled on Mustang after naming it after the heroic P-51 Mustang…a World War II fighter plane that was on record as being one of the most difficult of all Allied aircraft to meet in combat.


Prior to the reveal of the 1964 body, Henry Ford considered having the Mustang as a sedan or wagon…We're happy he made the right choice.
How Famous Is The Ford Mustang
You may have noticed on our Facebook page we asked if people knew their famous Fords as there has been long history of Famous Mustangs in feature films.
Not long after it's release the Mustang first appeared in a feature film called Bullitt, starring Steve McQueen, Robert Vaughn, and Jacqueline Bisset. In 2001, the Ford Motor Company released the Bullitt edition Ford Mustang GT. Another version of the Ford Mustang Bullitt, which is closer to resembling the original film Mustang, was released in 2008, to commemorate the 40th anniversary of the film and the third version for 2019 has recently been released.

More recent versions include Eleanor in Gone in 60 Seconds, 2 Fast 2 Furious, Knight Rider and TV series like Beverly Hills 90210.
How Many Mustangs Have Been Made
Last fall Ford had passed it's milestone of Mustang production producing it's 10 millionth vehicle. According to their website "the 10 millionth Ford Mustang was a high-tech, 460 horsepower 2019 Wimbledon White GT V8 six-speed manual convertible". It would be the same colour and model as the same Mustang Henry Ford II released in 1964.
How popular are Mustangs
Earlier today Ford announced that for the fourth consecutive year they are the worlds best-selling sports coupe, definitely no easy feat!
Happy #NationalMustangDay! See the evolution of #FordMustang over the past #55Years and celebrate the world's best-selling sports coupe! #MustangFans pic.twitter.com/90qCsXKrop

— Ford Canada (@FordCanada) April 17, 2019
2018 figures from Ford confirm 113,066 vehicles sold globally with 75,842 of them sold in the United States. They also confirmed that the Mustangs market share in the global sports car segment is just over 15%.
Do You Love Mustangs?
We certainly do, having now moved in and settled into our new dealership on the North Side of Grande Prairie we've got a great selection of Mustangs on our lot, from EcoBoost to GT to our new Roush line! Visit us at Windsor Ford and celebrate Mustang Day with us (or this week).